Shows & Symposium
Aerial Dance Symposium
Sun 28th May 2017 13:00 to 18:00
An Grianán Theatre, Letterkenny, Ireland
The Aerial Dance Symposium will take place in An Grianán Theatre from 1-6pm. The panel will be composed of Solo international aerial circus artists, academics, and Fidget Feet. After introductions the panel will take questions from attendees. After a short break, there will be group discussion and feedback on a selected topic. There will also be time at the end for people to pitch ideas.
13:00 – Introduction with Chantal – Fidget Feet News, IADF dates, IACC info.
13:30 – Rachel Strickland – Being an aerialist working in the world
14:00 – Oliver Smith-Wellnitz – Graduation from circus school and what comes next?
14:30 – Amy Ell – Running an aerial business
Break
15:30 – Lindsey Butcher – Presenting her paper
16:00 – Carolina Cabanas – Being a dancer and finding aerial and her creative process
16:30 – Table discussions
17:30 – Wrap up by 6pm
---
Hang On
Fri 2nd June 2017 21:00
An Grianán Theatre, Letterkenny, Ireland
Hang On brings the suited denizens of the business world into the sumo wrestler's circle of combat. This is aerial dance at its finest. Hang On mixes an aerial dance trapeze duet with a live musical performance in a thrilling struggle between the sexes. Will everything be lost in the battle or can love be found? Can they Hang On?
Our very own Chantal McCormick and Lee Clayden will be showing us how it's done on dance trapeze! Tickets not included in the IADF pass, €5/€10.
---
Performance Double Bill
Sat 3rd June 2017 19:30
An Grianán Theatre, Letterkenny, Ireland
First up will be "FLASHBACK", by Danzaire Aerial Dance Company.
This is by Carolina Cabañas' company from Costa Rica. Flashback is an aerial dance piece about an angel fallen onto earth and experiencing human feelings, emotions and memories. Discovering the world, living different encounters, complications, lost memories, decides to let go and move on. It is the result of an immerse work of investigation and exploring new languages in the air.
After intermission will be 'Hand in Hand' from the Netherlands.
A dancer and a circus artist meet. Together they try to dance in the air and float over the floor, but that is not always easy. Can they trust each other? In passing they discover new possibilities. Sometimes alone, often together; supporting, leaning on and hanging off each other. Falling and continuing. A vulnerable human display of being together.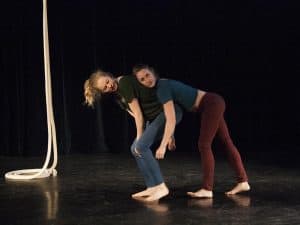 ---
Emma Insley Circus Cabaret Show
Sat 10th June 2017 19:30
An Grianán Theatre, Letterkenny, Ireland
Every year the Emma Insley Circus Cabaret show allows students at the Irish Aerial Dance Fest to showcase their work. Whether a piece created during the two week festival especially for the show, or something they brought to the festival to refine and polish.
---
Symposium 2 – Information Day
Sat 10th June 2017 14:00
An Grianán Theatre, Letterkenny, Ireland
An information day – Introduction to Fidget Feet's new proposed project for 2018 – "20 years of aerial dance in Ireland".
Tina Carter will present Fidget Feet's proposed project for 2018, funding permitted. Tina will also discuss what she needs from the aerial community and introduce herself.
Chantal will talk about Fidget Feet's two EU projects and the plans for them. Also IACC's funding to move into a church in the city centre in Limerick. Also that IADF dates are changing in 2018.
Then table discussion about aerial dance. Tina will introduce different table topics on the day, things that will help the aerial dance research.
Finish by 6pm.