Shows 2019
Coming to the festival and want to see all the shows? Participants can buy the Show Pack when paying for their classes, which gives them access to all the shows and parties.
Double Bill – Tandem & Caged
Fri 28th June 2019 20:30
An Grianán Theatre, Letterkenny, Ireland
Tandem by Natural Wings
In an evocative display of Aerial artistry weaved with comedy and physical theatre, Tandem tells the story of two women who find the safety and comfort of their similarities hard to let go of. Through their mutual trust and respect, they each push each other far beyond their own comfort zones into a new territory of individuality. As their unique differences unravel, they face their own fragile vulnerabilities and learn how to be an individual inside a kinship.
An incredible display of strength, humour, fragility and circus!
WINNER of the WA Circus Award at the debut season at Fringe World 2015.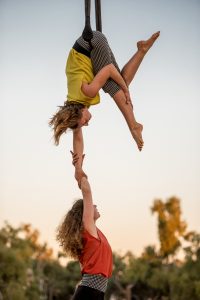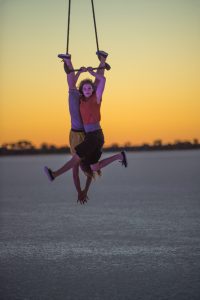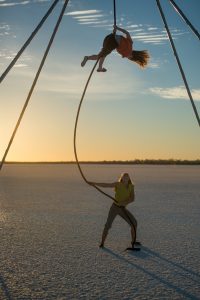 Caged – The Best Bits by FemmeBizarre
Femme Bizarre are not fierce, they are fucking ferocious. They are an explosive mix of aerial dance, spoken word, comedy, physical theatre, song and dance. They're a full on force to be reckoned with! FemmeBizarre were 2018's Winners of Dublin Fringe Judges Choice Awards for Best Duo.
For one night only, they will bring you the very best bits of CAGED to give you a flavour of what they're all about.
Take two women who are absolutely raging at the state of the place. It will be a speedyjourney through the ages, giving a visceral insight into what it means to be an Irish woman today. Respecting the pain of the past, the fear of today and the power of the future! Expect high energy, high octane dance and of course high hopes.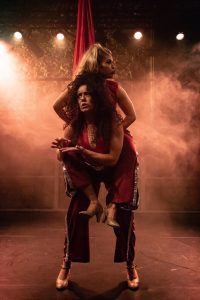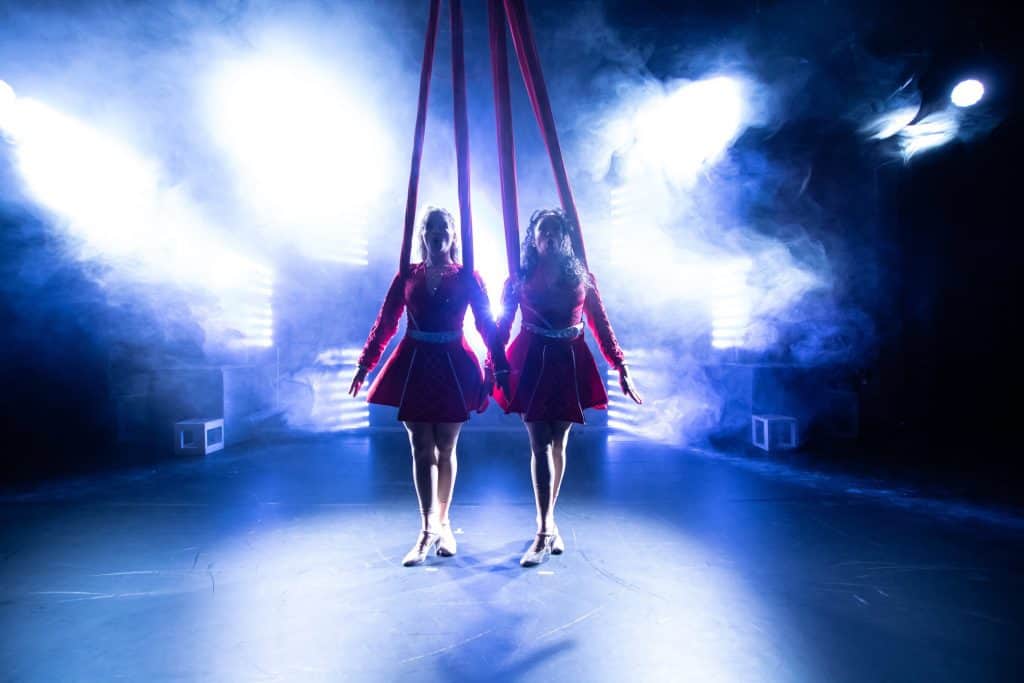 Tickets can be purchased through An Grianán Theatre, Letterkenny, online https://www.angrianan.com/event/tandem-caged/
or by calling Box Office: +353 74 912 0777
---
Double Bill – WHY & By a Thread
Sat 29th June 2019 19:30
An Grianán Theatre, Letterkenny, Ireland
WHY by Gravity & Levity
In 2004 Gravity & Levity won the Jerwood Circus Award to create 'Why', a vertical dance duet choreographed by Fin Walker for dancers Lindsey Butcher and Lee Clayden which premiered at ROH2 to critical acclaim and formed the keystone for the companies 1st full length touring production.
2019 will mark the companies 15th year so to celebrate they aim to revisit 'Why' commissioned by the IADF/Fidget Feet and funded by Arts Council England.
The original programme notes described 'Why' as' driven and fierce in its articulation, power and strength are juxtaposed with ease and surrender.' We won't be simply remounting the piece but applying a decade and a half of experience, knowledge, creative practice and of course 'more mature' bodies to the material.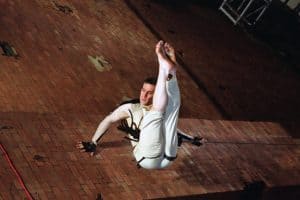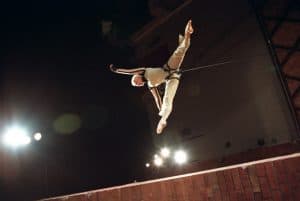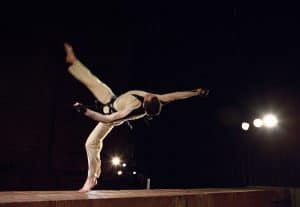 By a Thread by Kat & Dawg Productions
Physically exhilarating, touching and poignant By A Thread is the new hybrid vertical dance show by award winning Kat and Dawg Productions.
This daring show celebrates the women who have come forward to tell their truth. Weaving stories of an Irish "fallen" woman's journey to find her voice with the charming feat of flying beings finding their place in the world. It's not just an aerial dance work, but rather it is imbued with a story we can all relate to, one of courage, of heartache but most importantly one that realizes the value of each voice that has been silenced.
Inspired by stories from the Magdalene laundries, this emotionally charged show is interwoven with aerial dance, song and live music performed Emma Langford – Best Emerging Folk Artist – RTE Radio 1 Folk Awards 2018- and Cormac Byrne, award winning Bodhrán, Percussion artist and composer.
By a Thread is both exciting and devastating, a must see for a whole generation.
Festival Director's note: The subject matter is based on Magdalene laundries. The style is vertical dance, music, and contemporary dance. It is not 100% obvious what the subject matter is about for younger audiences, so it's the parents discretion if they want to take them to the show if they are under 14 years. For Kids day participants, you can optionally attend Friday night instead, or watch the outdoor show on Saturday and skip this indoor show if you'd like.
Supported by the Circus Project Award with the Arts Council of Ireland and DCC.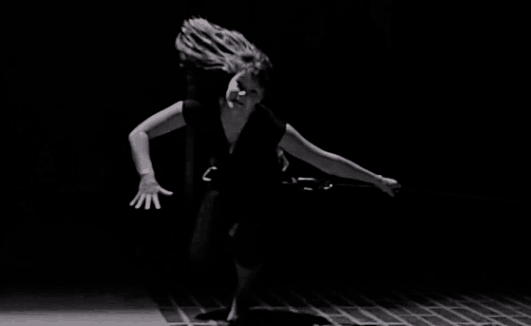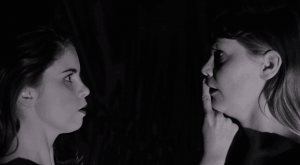 Tickets can be purchased through An Grianán Theatre, Letterkenny, online
https://www.angrianan.com/event/iadfshowcase2019
or by calling Box Office: +353 74 912 0777
---
Diverged by DueDá
Fri 5th July 2018 20:30
An Grianán Theatre, Letterkenny, Ireland
"Two roads diverged in a wood, and I,
I took the one less traveled by,
and that has made all the difference"
Robert Frost – The Road not Taken
Two roads, two ways … but only one choice.
Diverged is inspired by the poetry of Robert Frost to tell the inner struggle that occurs between logic and instinct when you have to make a decision. A dancer embodies the role of logic, she is associated with the archetype of the Earth, and an air acrobat is the instinct, he is associated with the Air archetype. Imagine the scene cohabitated by these interpreters and divided by a rope.
At the beginning the characters are the mirror of each other, move in unison, but in their evolution occurs gradually and each manifests its own drive toward an element: the land on one side, the air from the other. The rope divides the scene, as to indicate graphically a boundary between spaces, but with defining of character of the actors become a contentious issue: the metaphor of a power struggle.The impulse of the characters toward opposing spaces generates tension, which increases gradually to result in a conflict that sets new boundaries: the floor becomes the habitat of one, the air of the other.
It is clear, however, that this solution leads to unhappiness of both: the division and loneliness living in their elements makes them vulnerable. For this reason, the performers are compared again, have changed and matured than the first time, disillusioned by the experience of solitary life in their element, they are willing to deal with conflict differently, to dissolve it and to transform it into play; This new approach leads them to a compromise, a balance that respects the nature of each.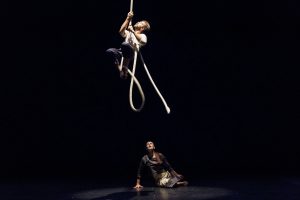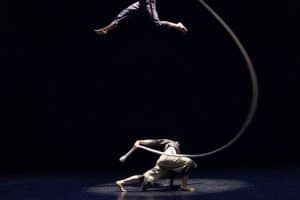 Tickets can be purchased through An Grianán Theatre, Letterkenny, online
https://www.angrianan.com/event/diverged/
or by calling Box Office: +353 74 912 0777
---
Emma Insley Circus Cabaret Show
Sat 6th July 2019 19:30
An Grianán Theatre, Letterkenny, Ireland
Every year the Emma Insley Circus Cabaret show allows students at the Irish Aerial Dance Fest to showcase their work. Whether a piece created during the two week festival especially for the show, or something they brought to the festival to refine and polish. This special 10 year anniversary edition will feature group performances created especially for the anniversary.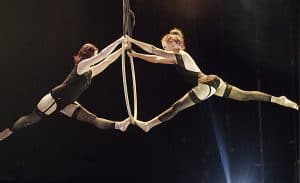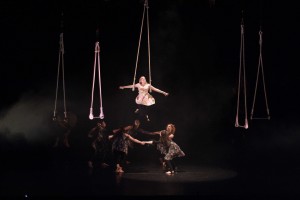 Tickets can be purchased through An Grianán Theatre, Letterkenny, online
https://www.angrianan.com/event/emma-insley-cabaret-2019/
or by calling Box Office: +353 74 912 0777