Classes
Vertical Dance Creative Lab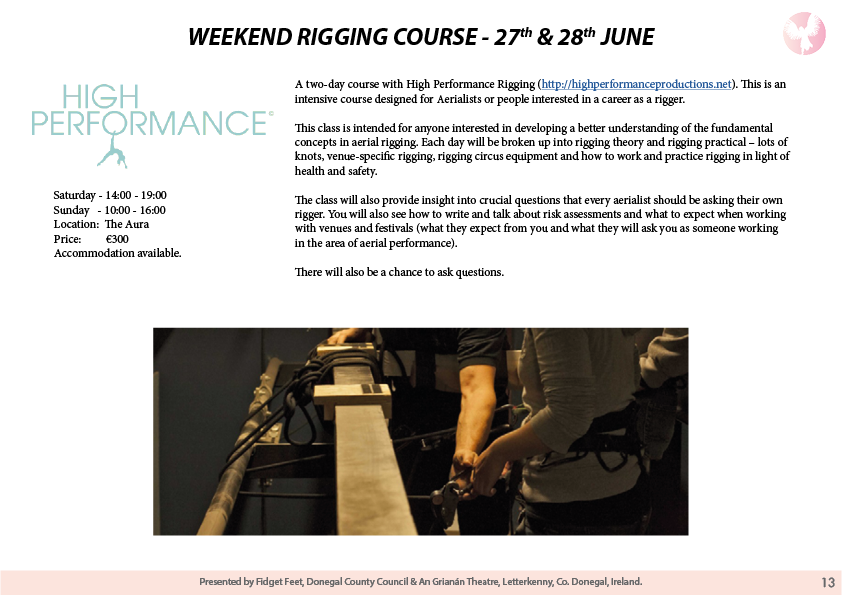 Weekend Courses
TBC Venue
Saturday 30th June 2018
Vayu Yoga – Lindsey Butcher & Chantal McCormick
Vayu Aerial Yoga, is a practice that has been developed to create space mentally and physically, by opening up the body through various postures using our custom designed yoga swing.
Using the support of the swing to move through various postures we are able to challenge and create space within the body whilst allowing the nervous system to relax, encouraging a letting go into complete surrender. Inverting the body while suspended in the air not only provides many physical benefits such as spinal decompression, it also expands the mind by creating confidence, overcoming fear and allowing new found freedom and bringing a playful light energy to our hearts.
Cyr Wheel – Mark Glover
Cyr Wheel for Skilled/Advanced
Aura – Sat 30th June 2018
Book a whole day pass for €100, 2.5 hours for €60, 1.5 hours for €35, or 1 hour for €20.
Injury Prevention, Let's Fix You – Amy Ell
A class on proper body alignment and muscle activation. We will find what's causing your discomfort and give you exercises to keep you muscularly balanced. No pain? Fabulous! Come with body questions or inquiries!!! Let's make sure you stay that way! Amy has been working with clients/patients (from non mover to Olympic athlete) for the last 30 years. Let's be anatomy nerds and play with movement efficiency! Let's make you a better performer!
Injury prevention is split up into two sessions which will cover different material. Attend one or both!
Contemporary Dance – Maire Dee
A traditional dance class with warm up, center work, and movement across the floor. Something for non-dancers and dancers alike.
Fabric Choreo – Lydia Lara
This class is designed in the Los Angeles aerial dance studio "The Loft" style and is for students who are interested in exploring and improving their performance quality and artistic expression in the air. We will learn a series of new combinations/phrases (including climbs, tricks/skills, and drops) and spend time working on style, musicality and quality of movement. The phrases are performed multiple times increasing student's stamina and endurance, technique and artistry in the air. The last 30 minutes of class will be dedicated to putting a combination together using the phrases learned during class. Small groups will perform for the rest of participants. Don't panic! You will be just fine.

Prerequisites: You must be able to execute 3 consecutive short arm/straight legs straddle inverts in the air. Clean single star and salto drops. You must be able to stay in the air for at least 3 minutes with resting poses as needed.
Dance Trapeze – Oliver Smith-Wellnitz
This workshop is for those who are curious about dance trapeze, or would like to explore it more but don't necessarily want to commit to a full week of classes. The most exciting things about dance trapeze are the possibilities for spinning, swinging, and otherwise taking up as much space as possible, so that's what we're going to do! After a basic conditioning/warmup sequence, we will explore some basic trapeze technique and sequences, and then try to do them again while the trapeze is in movement. We will also look at swinging technique before finishing the class with everyone's favourite, spinning (don't worry, we won't go crazy)!
Acrobatics – Saar Rombout
We will start with some strengthening and coordination and then we will work on some rolls, cartwheel variations and handstand basics. This class is for all levels as long as you can hold your own body weight on your arms.
Hula Hoops – Oliver Smith-Wellnitz
This workshop is for everyone! If you are reading this and saying to yourself "I could barely even do it on my waist when I was a child" this is especially for you! (Really!)
An introduction to all things hula hoops, we will start with a basic warmup before exploring and discovering all of the different places with which we can hoop. We have all hooped on our waist before, but what about on our elbows? Our feet? What about hula hooping on your butt? It's all possible! From there we will move on to try some manipulation and isolation exercises before stringing together some fun sequences. We all love to be in the air, but sometimes it's necessary to get back on the ground and play!
Improver Straps – Aaron Koz
You should have aerial or acrobatic experience but are only starting out with straps – for students wishing to build up an understanding of basic dynamic and static straps techniques on 2-arms as well as efficient and safe progressions for working from the ground to inversions. This workshop will be extremely beneficial for any aerialist hoping to improve their inversion technique and strength.
Pre-reqs: Comfortable straddle-up, ideally a straight arm inversion (but not necessary), plank for a minute or handstand hold against a wall for 30 seconds, no acute shoulder injuries, bring something to wear around the wrist to prevent surface abrasions (unless you already have wrist callouses).
Skilled/Advanced Straps – Aaron Koz
For those who are working on solidifying flag/meathook variations/some progression of back lever (tuck/straddle/straight), have practice spinning on 1 or 2 arms, skin the cats, straight arm inversions of any kind. For more advanced participants, a look at flag positioning and drills to strengthen it, as well as progressions towards skills like flare to flag as well as other transitions to flag, exiting flag with control, as well as thinking about movements like full-twist, tempos in and out of meathook/flag, and deadlifts to flag.
Flexibility –
Let's finish the day elongated and relaxed!!