Classes
Rigging Weekend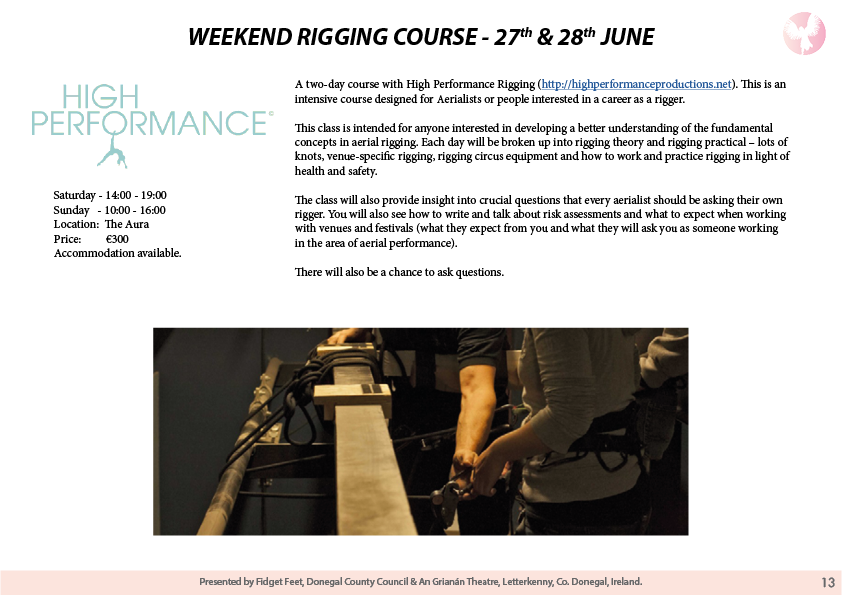 Weekend Courses
Trinity Hall
Saturday 29th June 2019
Cyr Wheel – Mark Glover
Cyr Wheel for Skilled/Advanced
Aura – Sat 29th June 2019
Book a whole day pass for €120, 3 hours for €70, 1.5 hours for €35, or 1 hour for €15.
Injury Prevention, Let's Fix You – Amy Ell
A class on proper body alignment and muscle activation. We will find what's causing your discomfort and give you exercises to keep you muscularly balanced. No pain? Fabulous! Come with body questions or inquiries!!! Let's make sure you stay that way! Amy has been working with clients/patients (from non mover to Olympic athlete) for the last 30 years. Let's be anatomy nerds and play with movement efficiency! Let's make you a better performer!
Fabric Choreo – Lydia Lara
This class is designed in the Los Angeles aerial dance studio "The Loft" style and is for students who are interested in exploring and improving their performance quality and artistic expression in the air. We will learn a series of new combinations/phrases (including climbs, tricks/skills, and drops) and spend time working on style, musicality and quality of movement. The phrases are performed multiple times increasing student's stamina and endurance, technique and artistry in the air. The last 30 minutes of class will be dedicated to putting a combination together using the phrases learned during class. Small groups will perform for the rest of participants. Don't panic! You will be just fine.

Prerequisites: You must be able to execute 3 consecutive short arm/straight legs straddle inverts in the air. Clean single star and salto drops. You must be able to stay in the air for at least 3 minutes with resting poses as needed.
Duo Rope – Abigail Rose
A fun weekend workshops class lead by Abigail Rose from New Zealand. This class will look at different basing positions and ways to move two people up and down the rope. Expect to hang from your ankles, your legs and your arms while balancing another person.
You will need to be able to climb to the top of the rope (or silks) and have the strength to hold someones weight. Basic knowledge in Duo Silks or Trapeze is useful. Wear long pants to protect your legs if this is new for you. Anyone welcome – You don't need to come with a partner.
Rope and Acro – Stevie Boyd
During this class we will concentrate on the study on the floor of basic acrobatic elements before translating them to the rope, both at floor level and in the air. The 4 basic rotations found in floor acrobatics (forward and back somersault/twists/cartwheels) shall be analyzed in order to fully understand the dynamics involved to successfully complete more complex acrobatic elements.
More Weekend Descriptions Coming soon….
Flexibility –
Let's finish the day elongated and relaxed!!