Fidget Feet are a pint-sized aerial circus company from Ireland. We tell our stories anywhere we can think of; in theatres, from cranes, hidden in forests, or swinging from buildings all over the world. Our performances are for everyone and we love to find new ways of telling our stories to new people. Since 2004 Fidget Feet has performed across five continents and to hundreds of thousands of people in some of the biggest festivals and venues across the globe. In addition to creating work, Fidget Feet is a strong advocate for the development of aerial work in Ireland.
Click the links below to find out about the partners of IADF.
An Grianán Theatre
Donegal County Council
The Arts Council of Ireland
Important Information
Please be careful to choose classes appropriate to your levels of experience and fitness. Once the IADF starts it is much harder to change classes. (You can freely edit your classes as much as you want up until the festival starts.)
Spread your classes, out leaving plenty of time to rest and make sure your respect the limits of your body. For instance, don't book a string of classes in a row that work only your upper-arms. By the end of the second class you may find you can't do any more.
If you can do some preparation work in a gym prior to the IADF you will get much more out of the fest, and your body will thank you for it.
Allow enough time to travel between class locations. It can take 20 minutes to walk between some venues.
If you have a Yoga mat, side-harness or sit-harness please bring it with you.
Bring warm clothes as some of our venues are quite big and can get cold. Also summer is no guarantee, it can be cold and windy.
Bring wet gear. This is Ireland. Also sunblock. It does happen.
Consider food and snacks. You'll need to keep your energy up between classes. There aren't many food places near the Aura, but starting in 2017 two aerialists started serving hot meals. Check out their food here.
If you need help deciding on which classes are most suitable for you please contact us.
Venue Locations
An Grianán Theatre – Port Road, Letterkenny, Co. Donegal
Regional Cultural Centre- Port Road, Letterkenny, Co. Donegal
Letterkenny Community Centre – Pearse Road, Letterkenny, Co. Donegal
Aura Leisure Centre – Sallaghagrane, Letterkenny, Co. Donegal
Be sure to allow plenty of time to travel between class locations. It can be a 20 minute walk from An Grianán Theatre in the town centre to the Aura.
If you have a car or bike this will help – please contact other students through the IADF Facebook Page to arrange lifts & offer to help with fuel.
Also the accommodation is a short walk into town and into venues from 15mins – 30mins, if you can share a car that would help.[/two_third]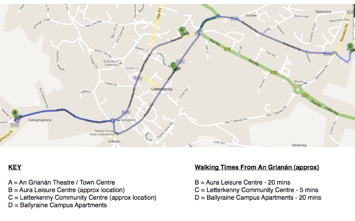 Click here to download the PDF map
Accommodation
The IADF organises self-service accommodation for 1-week and 2-week IADF festival participants. Please request this upon booking.
Alternatively contact the Letterkenny Tourist Office for full details on local accommodation.
Travel
International Travel
The closest airports to Letterkenny are;
For most people, Dublin or Derry/Belfast are the best/only options. 
National Travel
Bus Eireann runs a regular service to and from Letterkenny. For full details visit www.buseireann.ie
John McGinley also run regular buses. For full details visit www.johnmcginley.com
Ulster Bus runs regular services between Letterkenny and Northern Ireland. For full details visit www.translink.co.uk – To get from Belfast, you have to take a bus to Derry. Then a bus to Letterkenny. It's because of the UK/Ireland border.
Local Travel
There's not much in terms of local public transport within the city centre. Taxis will generally operate for €5-7 within the city.
There's a Lidl, Aldi and Tesco (and further to Dunnes) all within a 10-15 minute walk from the Accommodation.